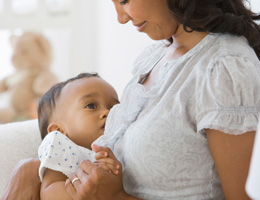 May 18, 2017—Here's yet another reason new moms should breastfeed their infants.
A new study shows that breastfeeding sends healthy, disease-fighting bacteria from mom to child.
The study found that nearly 40 percent of the good bacteria in a breastfed baby's gut during the first month of life comes from breastfeeding.
The longer a baby breastfeeds, the better. Even when a baby starts eating solid foods, he or she gets benefits from the good bacteria breastfeeding provides.
The study appears in the May 8 edition of JAMA Pediatrics.
Big benefits
The bacteria in an infant's gut play a role in his or her lifelong health, according to the study. These bacteria can influence the risk of problems like diabetes and inflammatory bowel disease.
Breast milk also gives baby other substances to fight off disease and illness. It contains antibodies, white blood cells and more. Formula does not contain these.
According to the American Academy of Pediatrics (AAP), other benefits of breastfeeding include a reduced risk of:
Sudden infant death syndrome (SIDS).
Ear infections.
Eczema.
Diarrhea.
Pneumonia.
Urinary tract infections.
Obesity.
Learn more
For babies up to age 6 months, it's best to breastfeed only, the AAP says.
Learn more about why breast milk is best.