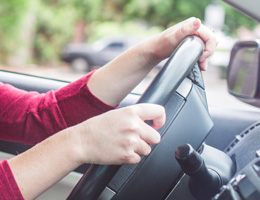 May 19, 2017—Impaired driving isn't limited to just drunk driving—people also climb behind the wheel while on drugs, and the results are just as deadly, according to the latest report on drug use by drivers in the U.S.
Using 2015 data, the report found that drugs were present in more than 40 percent of fatally injured drivers who were tested for substances in their blood. That's an increase from previous years. And it's more drivers than those who tested positive for alcohol.
Other highlights from the report:
About 57 percent of drivers nationwide who were fatally injured were tested for drugs. Marijuana was found most often.
By comparison, about 70 percent of fatally injured drivers were tested for alcohol. Of those, about 37 percent tested positive for alcohol.
How drugs play a role
Any drug—illegal, over-the-counter or prescription—can increase a driver's risk of a crash.
The impact of a drug increases as the dose increases. And while the effect of a drug varies from driver to driver, research shows that most illegal drugs can at least double a driver's risk of a crash. When drugs are combined with other drugs or alcohol, the risk of a crash jumps even higher.
Research has also found that drivers who have drugs or alcohol in their systems make other risky driving choices too. They are less likely to be buckled up and more likely to speed or commit other driving violations.
Want to learn more? Check out the complete report from the Governors Highway Safety Association and the Foundation for Advancing Alcohol Responsibility.
How to stay safe
Hundreds of different drugs can impair driving. When you take medications, consider how they may impact your driving—especially if they make you feel drowsy, light-headed or less alert. These precautions can also help protect you and your loved ones:
Read medication labels carefully. Look for any warnings about driving.
Make a list of all your medications. Talk to your doctor or pharmacist about how the drugs may affect your driving.
If you feel light-headed or dizzy, don't drive.
When in doubt, don't get behind the wheel.